This year's Catawba Classic will be held October 7 and 8 and the cost will be $1200 per team.

(A $650 deposit is required)
The following divisions will be available:
Boys: U9, U11(A/B), U13(A/B), U15(A/B), U17 and U19
Girls: Middle School, Junior Varsity, and Varsity
Register Here!
The Van Classic is held at the Manchester Meadows Complex and is a perfect venue for a lacrosse event.
Our tournament attracts teams from all over the Southeast including the Carolinas, Virginia, Georgia, Florida
and more! The Van Classic is a perfect combination of competition and enjoyment while offering
plenty of attractions in the nearby area including Carowinds Amusement Park and the White Water Center. 
Contact administrator@fmlacrosse.com for any questions that you may have!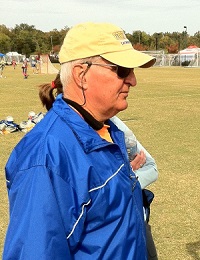 Who is Jim Van Blarcom?
Jim Van Blarcom has been a volunteer coach, program supporter and volunteer for the Fort Mill Lacrosse Club since it was formed in the fall of 2006. Coach Van, who gained his lacrosse experience while playing for Brown University, clubs in the northeast and coaching youth lacrosse over the years, has given his time, energy, and knowledge to all levels of the game and has been instrumental in creating a lacrosse community in the town of Fort Mill.
In the 2009/2010 school year, Coach Van took on the newly sanctioned varsity team at Fort Mill High School and led them to the state playoffs in their inaugural season ending with a rank of fifth in South Carolina. In 2010/2011, the programs second season, he led the Fort Mill Yellow Jackets in a capturing the South Carolina State Championship.
Coach Van has played major roles in growing the game of lacrosse in the local area across the state including coach, volunteer and mentor. We would also like to recognize Van's wife, Leigh, who is an avid lacrosse supporter. Thanks to both of you for your time and involvement in making youth lacrosse great!